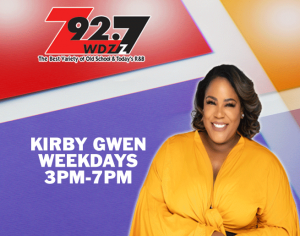 Born and raised on Detroit's Eastside Kirby Gwen is a radio personality of the people! A graduate of Specs Howard School of Media Arts with over a decade of experience in the broadcasting industry, Kirby has cracked every mic with the intention to uplift, entertain, and inform listeners across the country.
Curating conversations with cultural icons, celebrating community wins on social media, and keeping listeners abreast of breaking news is all a part of a day's work for Kirby Gwen; with each event, Kirby brings an unmatched level of energy that can only be described as refreshing, vibrant, and contagious. Her dedication to the craft has landed her multiple number one ratings in middays and nights.
Kirby's passion for the radio industry is driven by the opportunity to help create positive change in the lives of others. As an advocate for mental wellness Kirby has partnered with multiple organizations to provide resources to those in need. Striving to live by the principle of gratitude, she believes that it is her responsibility to give back to her community as much as possible for all that has been graciously given to her in the pursuit of her goals. "Having a successful radio career is the actualization of one of my greatest dreams, therefore every time I open the mic I make it a point to let others know that their dreams are possible as well."
When she's not on the air you can catch Kirby trying to create a quality Tiktok with her cat T'challa Moon, striving for personal best in the gym, or covered in paint creating her latest masterpiece.